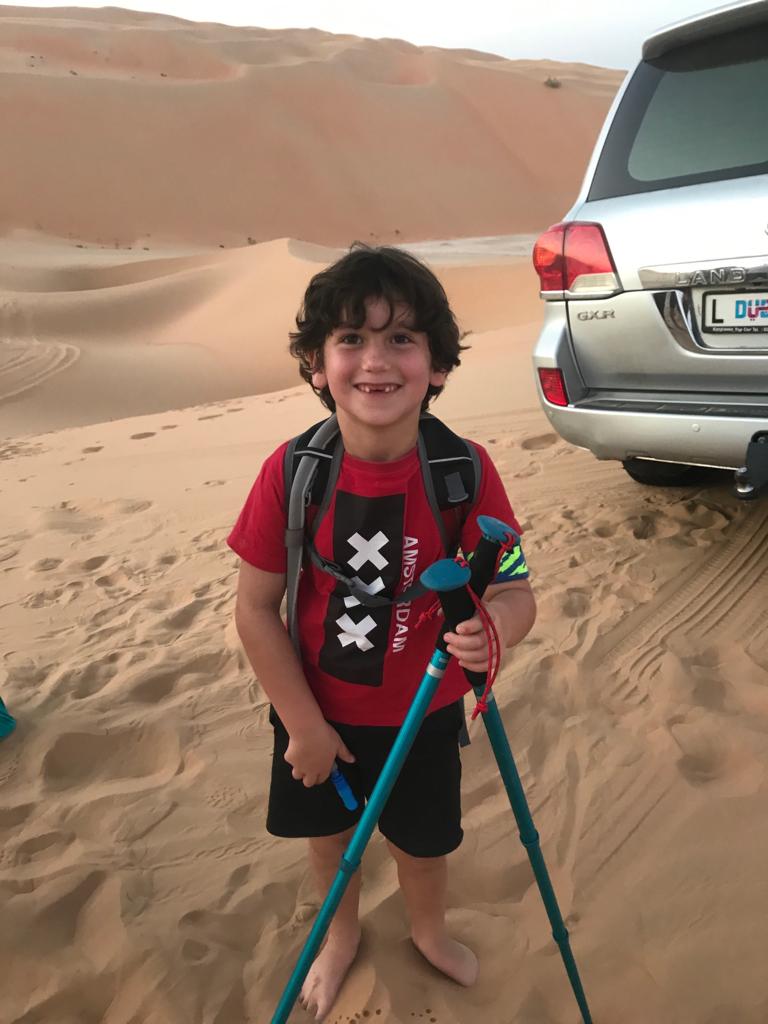 It's the perfect time to get the kids outside to play!
We will have a 3 hour sunset hike on Friday and a 3 hour sunrise hike Saturday. In between hikes we will have a swimming pool, sleds for the dunes, areas to fly drones, and a soccer ball for pick up games. S'mores and stargazing will finish off the day.
Drive from Dubai 3 hours, Abu Dhabi 2 hours, to our meeting point 15 minutes from Hamim, Abu Dhabi. Meeting time is 12 PM.
Itinerary
Friday:
Arrive to the residence around noon, have a lunch and swim. Our walk will begin around 4:30 PM
and we will walk for an hour after sunset using the torches and the stars to guide our way. We will come back to the residence, shower and arrange your beds for the night before dinner and bonfire.
Includes: Lunch, Dinner, Snacks

Saturday:
6:00 -9:00 am sunrise hike to where our breakfast will be waiting for us! Breakfast on a bedouin tent over looking an amazing sunrise.
We will walk back into our camp for a full lunch and a jump in the spring-fed pool on site. Each rest stops will also have food,energizing snacks, and additional water available.

THE AMAZING RESIDENCE

You cannot see the stars like this until you are far away from the city lights. It's simply spectacular. The residence is fully equipped with three full bathrooms, all bedding needs, electrical outlets and an amazing spring-fed pool. At night guest choose a spot to sleep either on top of the dune, on the grass under the stars, or under the traditional arabic style majlis. This is an authentic experience in a small group, remote area. .

SAFETY:

Our trek leaders are trained in Wilderness Advanced First Aid and have mapped the trek prior to our walk. Our teams will be communicating via walkie with the drivers and other leaders, and ensuring the health and safety of everyone in the team.
A support car is always nearby if needed. Everyone will have a 'rest stop' every hour which may seem like a lot, but this is the way we ensure that everyone stays hydrated and healthy.

COST: 890 aed per adult; 490 aed per child 0-12 yrs

What's included:
• Overnight in Desert Residence on Friday night.
• Shared bathrooms and showers
• Car support for the walk
• Trek leaders 1:10
• All meals
• Bonfire on Friday night
• SAT phone for emergencies

Not included:
Buff (50Dh)
• Camelback bladder (borrow for 50dh/buy for 150dh)
• Sand Gaiters (60dh - to keep the sand out of your shoes)

Contact: info@uae-trekkers.com.